Send to Kindle
Topping off an extraordinary night of music was one of our favorites, Chris Ayer. For those of you who are new here, you might require proof that Chris is one of our favorites. Luckily, I can provide that.
Two weeks ago we hosted our first house concert. We wanted a solo, guitar slinging singer/songwriter. Without hesitation, both Lois and I agreed that we should approach Chris first. He said yes, and this was the result. Lois and I share a lot of musical taste in common, but we differ a bunch as well, especially at the extremes. So, agreeing on Chris so easily tells you everything you need to know about how we feel about him.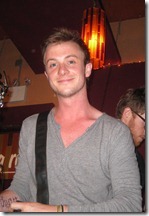 Back to last night. We had gotten delicious doses of Chris during both Matt Simons' and Sierra Noble's sets. You can read about those sets here and here respectively. You can also get a flavor of the band that supported all three sets.
Let's start with the traditional photos of Chris' set list, first from our perspective, then his. The twist is that this time, we'll throw in a bonus of a bit of his guitar as well (no extra charge!):
He kicked the set off solo, starting with two very new songs. Great start. Both were good, new material feeds the brain, old (great) material feeds the soul/heart.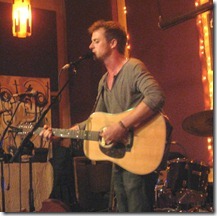 Then Chris brought the band up. A quick rundown (probably repetitious for the stauncher readers out there):
Chris Anderson on electric and upright bass plus vocals. Chris switched back to electric for most of the set, but threw in some upright to keep me on my toes, making Sierra's set the only one that he exclusively played the upright on.
Ryan Vaughn on drums. Once again, superb.
Greg Mayo on electric guitar and vocals. Since I can never say enough good things about Greg, I feel badly (for me!) to make this one so short. Here goes: he was his usual (awesome) self.
Matt Simons on keyboards (grand piano and electronic) and heavy vocals. As I mentioned in the post about Matt, when Chris and Matt sing together, it's magic, no matter whose song it is or which one is singing lead. No exception on Chris' set, Matt was perfect.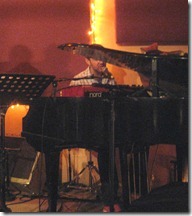 Here's a group shot (where Matt was out of the picture).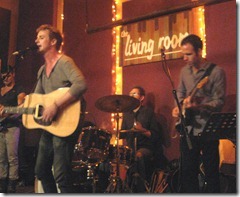 After a couple of songs with the band, Chris brought up Sierra Noble to sing harmony and play some violin. He gave the band (excluding Matt) a break. When Sierra and Matt sang three-part harmony with Chris, everything got cranked up another level (which only made me mad that Chris clearly was holding something back on the earlier stuff!).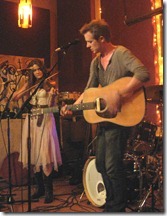 Sierra remained on stage when the band returned.
If you know Chris Ayer's music, then you know from the set list above what a great choice he made last night. He mixed it up with completely new stuff, great older stuff and very recent stuff. He mixed it up with solo, full band, three-part harmony (without the band), etc. If there's anything in particular that is your favorite thing about Chris, you were sure to have at least a healthy dose of it last night. If you're like us and love it all, it was a buffet.
In what has become a bit of a tradition at Chris' shows, he ended the evening with a descent into the crowd to perform Roy G Biv. As he did the last time he played The Living Room, the entire band descended with him. Well, they all did except for Ryan Vaughn who remained at the drums.
Chris (and everyone else) would have none of that. Since the most critical thing Ryan would be playing during Roy G Biv is the cowbell (look up the lyrics if you don't know why), they teased him about the fact that cowbells are notoriously portable. He didn't protest too much. He too came into the audience with a few percussion goodies in hand.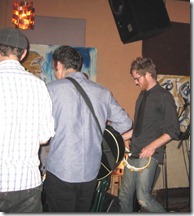 Once Ryan was in, the party could begin. Chris actually kept turning (slowly) in a full 360, to make sure everyone got serenaded head on.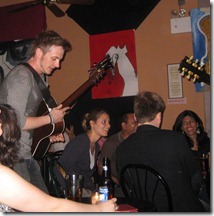 The rest might be a bit hard to pick out, but here's one shot that has Sierra in the background and Greg Mayo playing guitar. The highlight of the picture are Matt Simon's hands, leading the audience in keeping the beat by clapping.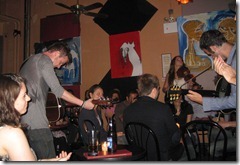 A fantastic, energetic end to one of our best nights out. From 8pm until nearly midnight, without a single disappointing song, surrounded by friends who enjoyed it every bit as much as we did. It doesn't get much better than this, but I promise, we'll keep trying to disprove that!