Send to Kindle
In what is obviously becoming a regular occurrence, we discover new musicians in the following cycle: 1) they perform side-person duties with someone we regularly see, 2) we see some mini-set where they headline a portion, 3) we see them perform a full set of their own, falling madly in love with them directly.
Sierra Noble fits that cycle perfectly, but amazingly, I was indifferent after that first side-person performance (nothing negative). Then we saw her at Backscratch 13. Here's what I wrote about Sierra that night:
Sierra Noble on vocals, acoustic guitar and violin. We've seen Sierra Noble backing up both Rachel Platten and Martin Rivas (back-to-back sets on the same night). I am aware of how much her fellow musicians respect and love her, but that night, while she did a fine job, I didn't see the light. Last night, headlining the three-song set, I got it. She has an incredible voice. She writes beautiful songs.
Ha! I thought I got it, seriously, I really thought so. Last night, she hit me over the head with a sledgehammer (in the nicest way that one human being can do that to another). Here's the point: at Backscratch, I realized she wrote beautiful songs. Last night (and now, listening to her CDs) I realize that she's a phenomenal songwriter, consistently. In other words, she doesn't just write beautiful songs, they pour out of her!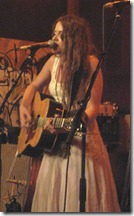 At the same time, she has a great voice and style. I don't feel that it's necessary to compare any artist to another, but on the other hand, it's sometimes helpful to get people interested in listening to someone new if they have a frame of reference. For me, Sierra's voice evokes a mixture of Alison Krauss and Ruth Moody (of The Wailin' Jennys).
The fact that Sierra and Alison both play fiddle has nothing to do with my comparison, it's more about their voices. The fact that Sierra and Ruth both hail from Winnipeg may have more to do with the water they drink up there (the three days a year that it isn't frozen).

Sierra played acoustic guitar and the violin/fiddle on most songs and sang without instruments, backed by a full band on the remaining songs.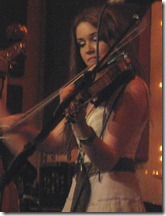 Sierra was backed by the same band that played with Matt Simons the set before and with Chris Ayer the next set. I'll just mention them briefly here, then continue with a few more of the highlights of Sierra's set.
Left-to-right on the stage:
Chris Anderson on upright bass and light vocals. On the two earlier sets Chris played electric bass. He played the upright exclusively during this set. He's masterful on both.
Ryan Vaughn on drums. Excellent (again).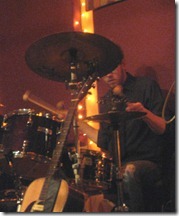 Greg Mayo on acoustic and electric guitar and vocals. In my last post, I inadvertently said that Greg played both electric and acoustic (already corrected). He didn't play acoustic during Matt's set, but did play both on Sierra's. On the acoustic he did some heavy finger picking (always a treat to see Greg perform varied styles!).
Sierra also highlighted Greg on the song Bring an Angel, which they co-wrote.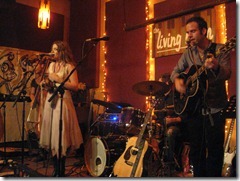 Sierra brought up Chris Ayer for two songs. The first was her amazing song Human After All, co-written with Michael Logen. We've seen Michael perform it twice (both times solo) and now Sierra perform it twice (both times with a male harmonizer). It's a great song performed both ways, but give me a choice, and I'll take the harmony every time. Make it Sierra and Chris and my heart will skip a few beats as well. Martin Rivas did an amazing job when he sang it with Sierra at Backscratch 13!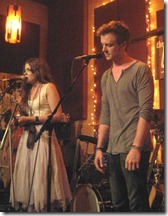 The second song that Chris sang with Sierra was a song they co-wrote (recently) called Keep it With You. Wonderful, both the song and their performance. Chris added the acoustic guitar during this number.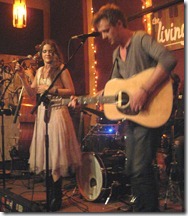 In keeping with the title Human After All, Sierra honored a friend and mentor who passed away three years ago today, July 3rd, 2008. She introduced the song saying that in most shows, she plays an upbeat fiddle medley. Instead, in memory of her friend, she would play a song he wrote for her.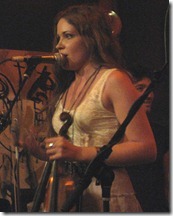 Oliver Schroer sounds like an extraordinary person (and a great musician as well). Sierra performed the instrumental, True Hearts Waltz. I'm impressed that she got through it. Clearly, this was an emotional undertaking for her. Our connection with Sierra grew immeasurably at that moment.
I started the above by relating it to Human After All. That's what we are folks, whether we like it or not. All too often, we forget loved ones when they're gone. Perhaps worse (though only on a few levels) is when we don't have gratitude and love in our heart for people that help and inspire us along the way (noone makes their way through life on their own).
Witnessing Sierra Noble honor Oliver, and much more importantly, do her part in keeping his legacy alive by sharing with it people who didn't have the privilege of knowing him, made both Lois and me very happy. That Sierra can feel and articulate this kind of human understanding at the tender age of 21 (did I fail to mention her age before?!?!?) is simply extraordinary.
Whew, back to the set. Here is the set list, though I think she might have played an additional song or two after the ones listed here: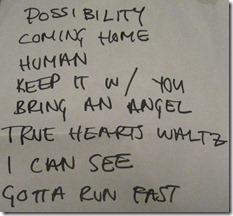 Sierra announced that she has an EP available for purchase at iTunes and that she's working on a new full-length CD. Given a choice, I will always purchase from Amazon.com over iTunes. Thankfully, Sierra's EP, Possibilities, is available on Amazon. Not only did I buy it (it's incredible), but I also discovered that she has a full-length CD from 2005 (she was 15!). I bought that too, Spirit of the Strings. It too is gorgeous.
That wasn't enough. When I visited Sierra's Bandcamp Page, I saw that she had a smaller version of the Possibilities EP available for full streaming (and purchase). While it only has four songs vs Amazon's six, there is a bonus track on Bandcamp that isn't on the Amazon version. It's a song she played last night: Coming Home to Say Goodbye (second song on the set list). I love the song, so I had to buy this one track separately as well.
OK, now you all go out and do what I did. Let's make sure this youngster continues to make music for a very long time!