Send to Kindle
Leave a Lasting Mark is a benefit concert series conceived and produced by Sam Teichman. We've been to a number of them, but have sadly missed some of the more spectacular ones (or so a number of people have told us). Our very first one was a Soul Revue (just like last night) 14 months ago. You can read about it, though it's super long, as this one is likely to be as well. This one was also held at The Bitter End.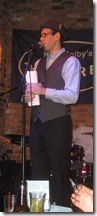 Instead of expecting you to read that long post, let me just pull out a single paragraph that I wrote about Sam right up front:
First and foremost, I need to bow to Sam Teichman (@samteichman on Twitter) as deeply and humbly as I can. Sam is a perfect example of one person, single-mindedly focused on getting something done and achieving that goal (actually, exceeding it). On November 4th, 2010, Sam sat next to me at Rockwood Music Hall as we enjoyed sets by Jesse Ruben and Alex Wong. Even on that night, Sam was doing for others, as I noted across three paragraphs toward the end of my post about that show.
I highly encourage you to read the next two paragraph from that post, but I'll leave it to you to click through if you're interested.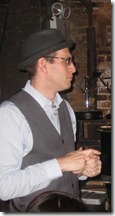 These benefit shows are really important to attend (in particular if you're a music lover) for a number of reasons. First, you're contributing to charity (100% of the entrance price goes to whatever charity is being supported at that show). Last night's charity was Foundation Fighting Blindness, specifically targeted for their Vision Walk 2012 initiative later this month. Seems like a good enough reason to attend the show.
Second, you have an opportunity to discover local musicians that you otherwise might never hear about. Every one of them donates their time to perform in these shows. Sam does a great job of paying them by constantly reminding the audience that they create their own music (often inspired by the people they're covering at these shows!) and that we should all make it our business to follow up and check out their own sites and music.
That's been true for me, starting back at my first Leave a Lasting Mark (LALM) show and solidly continuing last night. I'm going to follow the format I used for that first Soul Revue. I'll group all of the sidemen (yes, there was a sidewoman as well) by instrument, first. I'll skip mentioning the backup singers, because each of them took a turn singing a song on lead. Then I'll cover each of the lead singers, in the order they appeared.
The real point will be for me to call out a few people I've never seen before, some of whom completely blew me away (repeating a trend that's happened at each of the LALM shows).
Apologies for the varying qualities of the photos. Tons of people on stage, often obscured or very far away. So many of the lead performers were constantly moving, so it was tough to catch them in focus, or with un-passionate expressions. This is the best our little compact camera could do.
The brass section was up for nearly every song (not every person was up on every number that included brass). They performed yeoman duty and I imagine most are resting their lips and lungs today.
Ian Schaefer on trumpet, Mitch Marcus on sax and clarinet, Chris Hiatt on sax (@chrishiatt1, no good individual link), John Liotta on sax (also no good link), Steven Salcedo on sax.
Ian took a number of trumpet leads (in particular on I Just Want to Make Love to You and This Little Light) that were awesome. We typically see John Liotta light up a baritone sax with the Greg Mayo band. Last night he lit up a tenor sax equally well. Mitch, Chris and Steven were amazing too, in any combination that happened to be on stage for a given song.
Sarah Stern joined for one number, late in the show, on the flute (I couldn't find a good link). Delightful! She's (possibly) the only person who didn't make it on to the program. She stood with the brass section. This was our first time seeing Sarah.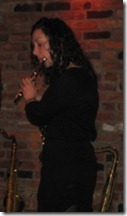 Bass players: Chris Kelly, Justin Goldner, James Preston (how can you not fall in love with someone whose middle name is Peanutbutter?), Jeff Litman and Sean Murphy. We've seen Chris, Justin and Jeff many times (they're always great). In fact, we discovered Jeff at that first Soul Revue, and Chris and Justin at a LALM benefit featuring the songs of James Taylor and Carole King. This was our first time seeing James and Sean, probably not our last.
One more of James Peanutbutter Preston: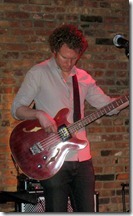 The first time I saw Jeff I really liked his bass play. But, it was after reading one of his blogs that I really started paying attention to him as a person, then discovered that he's an excellent singer/songwriter and musician (guitar is his primary instrument for his own brand of rock). He just released a new CD, Outside, get it, and get his previous one, Postscript.
I note how I discovered Jeff because he just put up a new blog post this morning (or at least tweeted about it today) and it's another amazing piece. So well considered and written. I learn from Jeff, both in his writing and in his music. Both Lois and I agree 100% with Jeff's thesis in this post (at least with regards to the part about the MET, the music can be a little more nuanced IMHO).
Drummers: Justin Hofmann, Stephen Chopek, Alex Cohen, Mason Ingram and Matt Arbeiter (still no good link). Justin and Alex were new to us (both excellent). Stephen always delivers, as do Mason and Matt. Matt is another that we first discovered at a LALM show (the James Taylor / Carole King one).
Guitarists: Mark Marshall, Mike Bell (no good individual link, but here's a link to a band he's in, BELT Band), Jeremiah Birnbaum (also sang lead), Joe Brent, Hudson Mueller (also sang co-lead). Mike and Hudson were new to us. We've seen Joe once before, but not on guitar. Late in the show, Joe also joined on two numbers playing the fiddle. He's a major talent, whatever instrument he touches.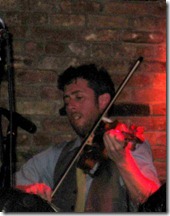 Keyboards (grand piano and electronic): Megan Cox, Scott Chasolen, Nick Semrad (also sang lead), Kenneth Harris (also sang lead), Scott Stein (also sang lead). A first for us seeing Nick and Kenneth. In addition to playing the keyboards wonderfully on every number, each sang lead from the piano, so more on them later.
Scott Chasolen is a great pianist and proved it again last night. He has an excellent voice, but wasn't one of last night's leads.
Scott Stein is also great on the keyboards. More on his lead performance below.
We've seen Megan play fiddle, when we first discovered her at the first Soul Revue. This was our first time seeing her on the keyboards (very nice!). I lied above when I said all of the background singers sang lead. Megan sang background but didn't sing lead. Sam told me this morning that Megan was scheduled to sing lead, but came down with a bad cold and couldn't do it. What a trooper for playing the keyboards and singing background even though she wasn't feeling well!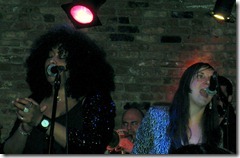 One last piece of reporting before moving on to the lead singers. The show was broken up into smaller sets to keep the transitions among musicians to a minimum. Each set had a Musical Director (M.D., as you'll see below). Here's is the order that they appeared on stage:
Mark Marshall, Justin Goldner, James Preston, Joe Brent and Scott Stein. Considering that there was only a single, five-hour rehearsal for everyone to come together, each of the M.D.'s deserves a huge round of applause (as do each of the musicians!).
Finally, the divas, both male and female.

Chrissi Poland opened the show. Such a powerful voice. She's currently raising money to record a new EP. Check out Chrissi's music and help if you like it (and can afford to, obviously).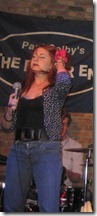 Terry Brennan (no good individual link, but he's in BELT Band with a couple of the other performers from last night!). I've seen Terry in the audience at a number of shows, but never knew his name, or that he was a performer himself. His voice was great last night, so now I know and can again count on LALM for introducing me to new talented people.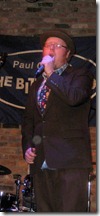 Abby Ahmad put on yet another passionate performance.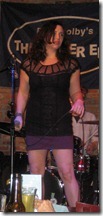 Martin Rivas was the only singer to sing two songs. In addition to killing it with a full band, he returned later to do the only solo, accompanying himself on acoustic guitar.
Stephanie White's vocals soared above the music. Incredible power with a laser-like precision. Stephanie was supposed to sing another song late in the set. The entire program ran over by 20 minutes, and Stephanie's second number was an unfortunate casualty, getting cut at the last minute. You can catch Stephanie as part of Philth Harmonic (a band she's in with Robbie LaFalce).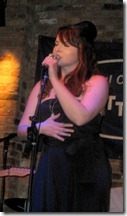 Crystal Durant is another person we discovered at a LALM show (The Blues Bothers tribute). What a wonderful voice, both lead and background vocals.
Jared Saltiel was another first for us. He was impressive, but I'm actually liking the music on his site even more, so click the link and check him out.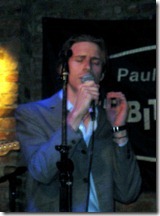 Eva Alexander was also new for us. We were both extremely impressed with her voice.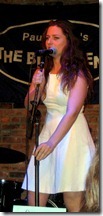 Abby Payne is someone we're very familiar with. In fact, I've written (glowingly) about her a number of times in the past few weeks. So, you'd think she couldn't really surprise me, especially in an extremely positive way. Wrong. Backtracking for a bit. Abby is yet another performer that we discovered at the first Soul Revue. Here's what I wrote about her lead singing that night:
Abby Payne did a very nice job (yes, the same Abby who nailed the piano parts!). The only issue is that it took Abby a bit to crank up the volume on her voice, which was necessary because she (and all of them) were competing with tons of instruments and other vocalists. Abby had an all-male backup singing contingent.
Note that my only complaint was that her voice didn't soar above the music. Holy moly, last night Abby delivered all of the power, passion and clarity you could want in a voice that was clearly soaring above a stage full of awesome musicians. I was already a big Abby fan, but it seems that my fandom can grow.

Speaking of being a fan of Abby, please help her make a new CD (pretty please?). Nine days left as I write this. I have faith in all of you.

Jeremiah Birnbaum did a wonderful job on his lead song, in addition to all of his guitar play and background singing throughout the set.
Nick Semrad was new to us. During the set that he played keyboards, he also sang lead on one song, very impressively.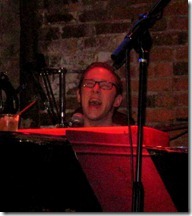 Ashley Lehmann sang (Sittin' On) The Dock of the Bay, perhaps the best known song of the night (though there were a ton of real soul fans, who likely knew every song just as well as this one).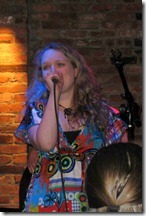 Dani Tersini was awesome, hard to describe it any other way. Also new to us, but won't be a stranger going forward. Her red dress seemed perfectly appropriate for her song, I Just Want to Make Love to You.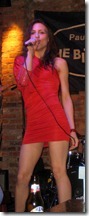 Scott Wolfson yet another first for us. I liked his voice a lot, and he did a fine job on his number, but I'm guessing that I'll like his own shows even more.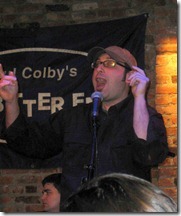 Maddy Wyatt was an extremely nice surprise for me. I was very impressed by her the only other time I've seen her, supporting Jeff Litman. That night she sang a ton of harmony (beautifully, but quite mellow) and played the flute (also beautifully). To see her come out and belt out a soul number with the full band was not what I expected. Oh yeah, she also accompanied herself on the acoustic guitar. Very nicely done, both vocals and guitar!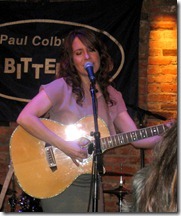 Akie Bermiss continued the hit parade of firsters who did a marvelous job, with Crystal Durant doing heavy duty harmony with him. Akie is part of a band called Aabaraki (who we haven't seen). You can stream and buy their album.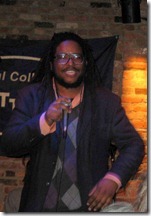 Alec Gross has to be put in the same camp as I put Abby Payne earlier. I'm a fan, and I've enjoyed his sets before. But, I think of him as a fairly mellow folk singer. Not last night. He lit it up, completely. Very impressed.
Andy Mac is someone we've seen do one full set before, plus one song at the James Taylor / Carole King benefit. He cranked it up a couple of notches last night and really delivered. He also played acoustic guitar, both while singing lead, and supporting Ashley Lehmann.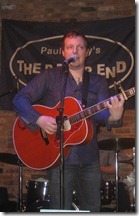 Bri Arden sang This Little Light. Ha, I fooled you, because I said sang, like that's what Bri did. If you read this space regularly, you know Bri is the subject of a lot of posts. That's because she's always awesome. So, it shouldn't come as a surprise that she took this song and created a soaring vocal masterpiece. Seriously, it is not possible to describe it in words. You'll have to wait until Sam uploads the individual videos (which he will do) to see a poor reproduction of what we were all treated to live!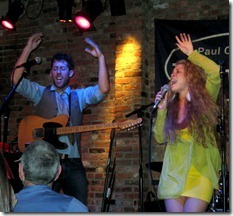 Above, I showed a picture of Crystal Durant and Megan Cox singing background. That was on Bri's song. Dani Tersini and Ahsley Lehmann also sang background during this song: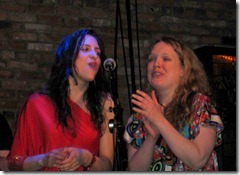 Brian Collazo is another one of our favorites, any time, any place. While there's no good individual link to him, he's best known for fronting the incredible band, Live Society. Brian was extraordinary when he sang lead, as he was on the numbers he sang background. That we couldn't keep our eyes open to see him sing with Martin Rivas at Slane right after this show is something we'll regret until we get to see him again (soon, I hope!).
Brian also sang background on a number of songs. On this one, he was part of an all male contingent: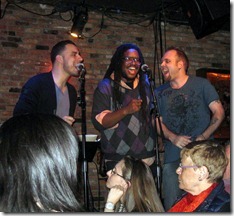 Here's he was standing in front of the brass section: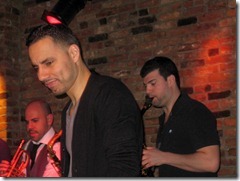 Kenneth Harris sang lead on one song, in addition to playing keyboards on one of the mini-sets. He was awesome. This was a first time for us seeing him, definitely not the last. By the time he sang lead, he didn't surprise me. When Brian Collazo sang lead (the song before), Kenneth sang primary harmony with him and he was absolutely amazing on that number. Keeping up with Brian is no small feat, and Kenneth was definitely up to the task.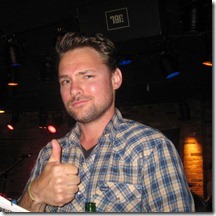 Scott Stein came to center stage to sing his lead, after playing keyboards for the remainder of the mini-set. Excellent, on both the keys and on lead vocals!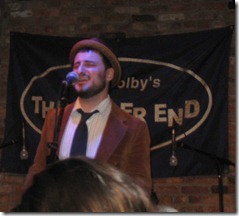 Evan Felts and Hudson Mueller (of The Gold Magnolias) shared lead vocals, with Evan doing most of the singing. Both new to us, both impressive. Evan did a classic soul dance throughout (a la James Brown himself). He had the crowd completely worked up in a lather. Tons of energy, great vocals.
Grace McLean was the final newcomer to us. Grace performed perhaps the second most famous song (to me at least), Chain of Fools. Let's see if I can be succinct in describing her: Wow! (OK, that was succinct, but not sufficient, how about: Holy Wow, Unreal!, yes, that's better).
Closing out the show was someone who we also discovered during that first LALM Soul Revue. He blew us away that night, and topped it last night. He had a gig of his own earlier that evening and rushed over to close out this one.
Jay Stolar stolar'ed the show (ba dum chi!). What a voice, what stage presence and delivery. In addition to singing his you-know-what off, he put on a show. He climbed on a table, got everyone to get up and shake it, dropped to the floor (as did a few of the performers) and generally got the blood rushing everywhere.
For that last song, Sam was up on stage, first playing the tambourine in the back (his signature) but then coming forward to sing background, sharing the mic with Dani Tersini.
After Martin's second number, roughly halfway through the show, Sam introduced a representative from Foundation Fighting Blindness. I won't get her name right, so I won't attempt it. She described the work they do and the Vision Walk, and invited all of us to learn more about it, and join on the walk on April 21st.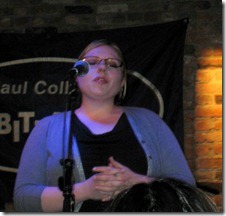 Whew, made it to the end (that comment was for me, not you!).

Some closing notes and a treat!
When we were waiting for the doors to open, four German tourists came up to ask if we on line for the club next door. We told them what we were there to see. The guy in front of us in line went into a hard sales pitch to get them to join us. They seemed interested, but left to grab a bite, saying they might return.
Indeed, they got there in time for the start of the show. Both of us noticed them having a blast throughout, whooping louder than most people at the more feverish parts. Glad they believed us and joined. Even gladder they enjoyed it!

As I noted up front, in addition to the artists donating their time, it's also a showcase for them to be discovered. Sam does an amazing job of not only promoting them during the show, but of ensuring that they're easy to find online. Sam had a two-page handout which listed every performer (except for Sarah Stern). You can find out what bands they play in, what site they're at, what their Twitter handle is, etc. Here are both pages of the program:
Here's the set list (remember, they had to cut Stephanie White's second song):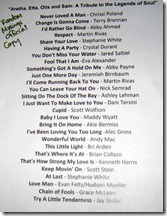 Finally, the treat. Sam cut a short highlight reel. It's great and will give you a good sense of some of the performers, but you simply have to trust me on two points: 1) Many of the ones that didn't make this reel were awesome and 2) no video will ever sound and feel like the live version does! Sam will also be uploading a longer highlight reel, which will have at least a bit of every single song in it, so keep checking his YouTube channel:
Leave a Lasting Mark Highlights from April 3rd, 2012
As always, we were surrounded by friends, some of whom Lois captured: