Send to Kindle
Amy Rivard headlined Rockwood Music Hall yesterday. For us, this marked a big shift in her career (perhaps not so from her perspective).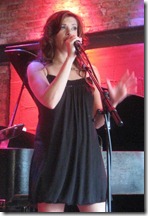 I'll describe the show in a bit, but I want to step back and explain what I mean above, mostly for myself. If you already know about Amy's previous careers/accomplishments, skip ahead.
We first saw Amy perform on 9/21/2009 at a Livestrong Benefit. She rushed over from Madison Square Garden where she sang the National Anthem at the Rangers game (not the first time she sang at MSG!). I spent four paragraphs gushing about Amy in that post (about 40% of the way down). Here's the first one, so you don't have to wade through the original:
Amy Rivard sang, accompanied by Alex Berger on the keyboards. Before I begin, let me take a deep breath, and say Oh My God! Seriously, Amy has such an extraordinary voice. Alex was worried that Amy might be late, because she was singing the National Anthem at the NY Rangers game at Madison Square Garden last night. Holy cow, I can only imagine how awesome that must have been!
Singing the National Anthem, both US and Canadian (Amy is Canadian, but don't hold that against her)

is one one of Amy's specialties. Madison Square Garden is a small venue for Amy. We watched her sing it live (in HD) from a NASCAR event (over 100,000 people, perhaps twice that?). Still, that isn't what occupies most of Amy's professional life.
She was a member of both Celtic Woman (one of the most extraordinary musical experiences) and Riverdance. She performed at Tokyo Disney for over a year. The point? Amy can sing.
That's not all. Amy is downright funny. Not just in her ability to deliver a line, but to conceive and write it as well. An entirely separate aspect of Amy's career has been the creation of Candy Canadiana, a lovable character Amy created to promote Canada in a lighthearted way. I particularly like the two-part episode, How to Make Maple Syrup.

Combine the three talents (Singing, Acting, Comedy) and you can easily understand why the second I saw Amy, I thought she should be a lead on Broadway. More specifically, in that first blog, I wrote:
Amy has a Broadway style and quality voice. In fact, I would love to see her in Wicked!
Since that first night we've seen Amy perform twice. Once at Waltz-Astoria, again accompanied by Alex Berger and at The Metropolitan Room doing a Cabaret Show.
In 2005 Amy put out a CD titled Cashmere of Jazz numbers (covers plus a few originals). We bought that too. If you like Jazz singing and instrumentation, you'll love this CD!
I have been (and continue to be) impressed with Amy's voice. I hired Amy to sing on a project that I did just for fun (a Tonight Show Tribute). That was recorded on my laptop, in my living room, in under two hours, so please don't judge the sonic quality.
You now know everything that I knew about Amy, going into yesterday's show. More recently, Amy has been shifting gears into a singer/songwriter direction. We've seen a few recent YouTube videos but still didn't know what to expect yesterday. For one, when I asked Amy what type of music we'd be hearing, she said "I don't know, you be the judge".

The bigger difference is that on the videos of the shows we missed, Amy was accompanied by either a piano or acoustic guitar, for a bigger focus on her voice.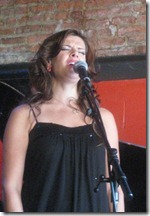 Yesterday she had a full band (entirely comprised of some of my favorite musicians!), so it was bound to be dramatically different for that reason alone. It was. That still leaves the songs and the performance, so let's finally get to that.
Amy's voice came across wonderfully (no surprise). Her songs had a wider range of styles than I expected. For example, Shout it Out delivers quite a rock feel, I Got Your Back is cabaret, The Three Divas is jazzy, etc. For the most part, the songs are up-tempo (even the mellow ones) which gave the band some bones to chew on.
Removing Amy from the equation for a second (as a performer, these are still songs she wrote), I enjoyed the sound of practically every number, so they're very easy to listen to. The lyrics are more inconsistent (for my taste). I think the numbers that are very personal for Amy need more work. In my opinion, she was likely too emotional when she wrote them, and could use more detachment (even though she'll be delivering the same message, ultimately).
I was more impressed/interested in the ones where Amy was writing about something/someone else (e.g., The Three Divas). In any event, I believe Amy would accelerate her lyrical journey if she were to team up with a few different co-writers to get varying perspectives on techniques and processes of songwriting.
Back to Amy as a performer. We've already covered Amy's voice, with one exception. Amy has been singing jazz/cabaret/showtunes for so long, that I can't tell whether that's so deeply ingrained that it's the only style she's comfortable with, or whether she prefers it to all other styles.
I believe (again, just an opinion) that Amy is trying to write songs that would appeal to a broader audience than cabaret lovers. If so, she could be held back a bit since she brings a cabaret-style voice to those numbers (even a drop to the rock-styled Shout it Out). There are so many sets (every day) at Rockwood, that it's possible there are audiences that go there just to hear that kind of music. We tend to hit up more folk/pop/rock shows and Amy's voice doesn't fit most of what we see there.
On to the band, left-to-right on stage, then back for more about Amy and the specifics of the show:
Greg Mayo on electric guitar and grand piano. If you only found this post because of Amy then you have no idea how big a fan I am of everything Greg does. You can spend a few days reading everything I've written about him. Greg played electric guitar until the last two songs (beautifully) when he switched to the grand piano.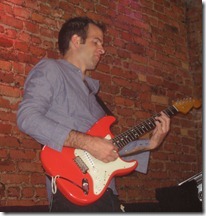 Amy's big finale was I Got Your Back. I'm not a fan of the song (sorry), except for the fact that Greg took a killer piano solo. That part made me very happy to hear the song.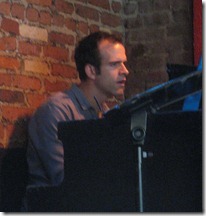 Chris Anderson on electric bass. Chris was really terrific. The songs were mostly up-tempo and Chris kept the bottom full and constantly dancing.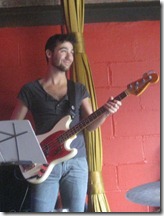 Ryan Vaughn on drums. Like Chris, Ryan was a critical part of keeping everything gliding along at a nice clip.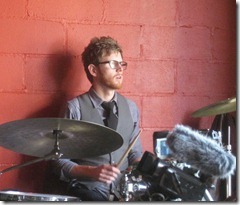 The point is that Greg, Chris and Ryan brought a different quality to the same songs that I saw on YouTube with only a single accompanist. I am pretty sure they only had a single rehearsal. That showed a very few times, but otherwise is just another in a long series of examples of how professional each of these guys is.
Back to the show. Amy invited a friend of hers, the very talented Jason E. Bernard to dance on one of her numbers. Amy met Jason when they were in Riverdance together. Amy cleared his performance with the bartender. They removed one of the tables to give Jason room to maneuver on the floor, not the stage (he was sitting at the bar like any other audience member).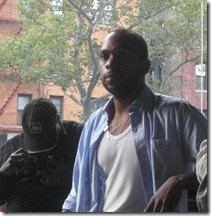 One verse into Hopes and Dreams, we heard tapping and looked over and saw Jason tap dancing and acting out the story line in dance. The best laid plans…
Unfortunately, Amy never discussed it with the sound engineer, who actually runs each set. He sits perched in the rafters. He thought (understandably) that someone in the audience was distracting the rest of us from the show, and he swooped down the ladder and stopped Jason from dancing.
Amy and the band were incredibly professional. They never lost their place, even though their faces told a very different story. After the song, Amy apologized to the sound guy, taking full responsibility for the snafu. When her set was over, she asked him if they could do Hopes and Dreams again, with Jason dancing this time, and of course, he said yes.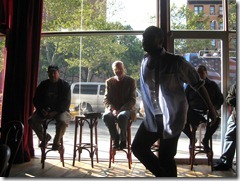 So, we got to hear the song twice, this time watching Jason dance. All's well that ends well.

I mentioned that Amy is very funny, and indeed throughout the set, she was just that. A number of times Amy was very quick on her feet bantering with the audience or with Greg and the guys. At some (most?) of her shows, Amy likes to give things away. She asked some questions early on (trivia style) and tossed a couple of T-Shirts into the audience for the correct answers.
One was tossed with no one answering correctly, so it was a generic toss. It hit one of the monitors in the ceiling and was diverted straight to me.

There were some other goodies handed out.
All in all a fun show that kicked off a very long day/night of music out for us in good fashion. We saw three additional sets/shows yesterday, each of which will follow this with their own posts. Whew!
Amy knows that we try to post set lists whenever we can. She anticipated that we'd ask for one and customized it for us in advance.