Send to Kindle
It's great to see a show you know you're going to like because you like a number of the artists. It's even better for that to come true and have very pleasant discoveries/surprises thrown in for good measure.
Jammin' Java had the show listed as Chris Ayer headlining, supported by Barnaby Bright and John Schmitt. This would be our third time seeing Chris, so there was little risk there. We just recently saw John perform one song at the Soul Revue Benefit in NYC and were very interested in hearing more of him. We didn't know who Barnaby Bright was and I admit to thinking it was a person born in 18th century England, who somehow was still touring around.

Since I follow a lot of musicians on Twitter, I found out earlier that day that Morgan Holland and Matt Simons would be there as well. When we got there, we saw two more surprise guests, Chris Anderson, who we will see at least three times in the next week in NYC (with three different bands!) and Stephen Chopek. So, even before the show began, our anticipation was elevated.
I normally describe the evening backwards, headliner to opener. I will do that in this post as well, but since I mostly write for my own memory, I will need to disturb that flow a drop, to note my reaction to certain things, which obviously occurred in forward order. Hopefully, I won't confuse you too much (or myself when I revisit this years from now).
Chris opened his set solo. Considering how good his voice is and how well he plays the guitar, he could easily perform entire sets solo and deliver satisfaction to the audience. But, given the three-car caravan that came down from NYC yesterday, it was no surprise to any of us when he invited the full band on the stage. I'll cover the band at the end, because they played with three of the four acts.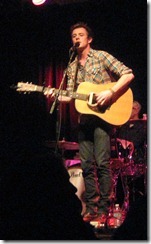 Chris performed a fantastic set (as with the last show we saw, here's his set list, our perspective, then his):
On many songs, if I close my eyes, I could swear that James Taylor is performing a Chris Ayer song on stage, that's how uncannily close Chris sounds to James (at times). But, Chris has quite a large repertoire of songs in various styles, including a number of ballad-style Rock numbers.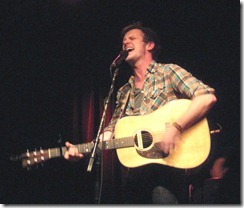 Lois and I often agree/overlap in our opinion of the artists, but we don't always get there at the same speed. Lois loved Chris from the first song he performed at Parkside Lounge. I was very impressed, but it took a second look (linked above) for me to catch up to Lois. Before the show started, Lois bought two CD's and a T-Shirt from Chris. We own both the CD's but neither of us could remember whether our copies are signed (one of our things) so now we have two CD's to give as gifts and two that are definitely signed!

Chris played two songs that he just released this week on iTunes, Relativity and Stranded. Both were wonderful, so I bought those this morning as well. Excellent. Except, last night, Morgan Holland joined Chris to sing harmony on Stranded. It was gorgeous. The download is also gorgeous, but no female harmony to make it even better (score another one for a live experience!).
Chris played a number of favorites, including Evaporate, which he sang in three-part harmony with Morgan and Matt Simons. Beautiful! He accompanied himself on the guitar, and Chris Anderson and Stephen Chopek chilled out behind them.
Chris closed the show with The Noise. He called up Morgan Holland, John Schmitt and Barnaby Bright (all of the acts before him) to sing harmony with him (and us) on this. He invited the crowd to sing the refrain (ah, ah, ah ah ah) with them. Normally, I can tell when the crowd joins in. I admit that last night I could only make out my own voice, but I'll also admit I was awesome!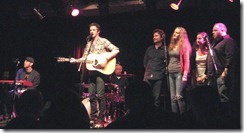 You can listen to a live version of that song (linked above) where you can make out that the audience is joining in, and then buy it right there as well!
On to the biggest surprise for me of the night. Barnaby Bright is not in fact a 300+ year old troubadour. It's a husband and wife duo.
Nathan and Becky Bliss. This is where I have to disturb the backward flow for a minute. Each of them joined John Schmitt, the act before them, separately. Nathan played the sax with John on one number (just the two of them on the stage), and then again with the full band. Becky sang harmony with John on one number where only they were on stage.
So, I thought I had a sense of them. Nathan would come out and play the sax and Becky would sing soft (but stunning) harmonies with Nathan. Hahahaha, not even close. Back to the correct reverse order of things.
Becky took center stage with a small folding table in front of her. On the first number, she played the harmonium and sang. Wait, let me try that again, trying to impart to you what I experienced.
Becky Bliss sang. Hmmm, that doesn't do it justice either. Let me embarrass myself by sharing with you how I fumbled for words when I spoke to Becky after the show. Instead of saying something coherent, I said: "Your voice is frighteningly beautiful!". Huh? Come on Hadar, you weren't frightened even for a second, you were completely enveloped and mesmerized. Yeah, that's what I should have said…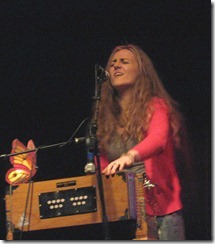 OK, that was no fluke. On each and every song, Becky amazed me. In addition to her voice and the harmonium, she played some rhythm acoustic guitar, ukulele and a tiny electronic keyboard that she laid on top of the harmonium for one number. She also wrote some of the songs they performed last night, though I recall her giving Nathan credit for the majority of them.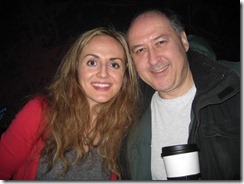 Nathan didn't play the sax even once during their set. Instead, he was fantastic on the acoustic guitar (a few of them in fact). Many styles, including the finger-tapping style of people like Kaki King (just one example).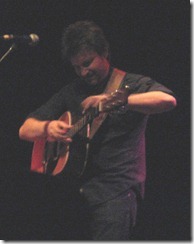 In addition he too played the ukulele on one number and the mridangam (or something very close to that).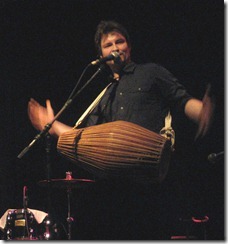 That's not all. When they were playing, I could swear I heard a kick drum, but no one was on stage with them and all four of their hands were busy. Then I noticed that Nathan was tapping with his foot on something that looked like a closed up scissor jack for a car. I asked Becky about it after the show. It's called a porch board. Cool! Nathan did a very nice job of keeping the beat and adding a fullness to their sound while continuing to impress on the guitar.
Nathan sang too, a bit of lead (a song he wrote about his father's passing) and a lot of harmony. Their harmonies are beautiful, many times with a very ethereal quality (most notably on the CD, which I'll get to in a sec). If I had one complaint, it's that Nathan isn't very forceful with his voice when singing with Becky. I don't know if he's intimidated by singing with that voice (I know I would be), but I doubt it. So, next time, Nathan, kick it up a notch, just for me.

They nervously performed a song they had just finished in the car on the way down (or so they said). They nailed it, no reason to have been nervous.
Speaking of the CD. After their set, Lois ran up to buy a copy. I listened to it today and I like it a lot. But, it's nothing like the show I saw last night (even though they performed much of it). Becky's voice is gorgeous on the CD, but very mellow. Last night was phenomenal power (there was a bite to it). The ethereal quality I mentioned above comes across throughout the CD.
Score one for the old man (oops, I mean married couple!). We both can't wait to see Barnaby Bright perform again.
John Schmitt is someone I've heard about from a number of our friends. He performed most of his set solo with a guitar. I mentioned that Nathan joined him on the sax for one number (John gave Nathan two nice sax solos in that one). The song Becky joined him on was Ave Regina. Wow, great song, beautiful harmony.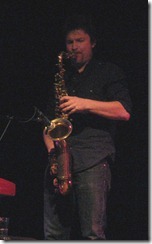 John is an excellent guitarist, so like Chris Ayer, no problem holding my attention when it's just him and the guitar. But, it's not really about the guitar. John writes wonderful songs (lyrics) and has a major voice. He had a horrible cold, which he said was causing him to sing more deeply than his normal range. I felt bad for him, but even a slightly gruffer, slightly deeper voice came across marvelously last night.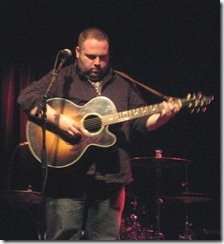 He has a very natural rapport with the audience and I look forward to seeing if there is a difference when he's feeling better, though I don't have anything but praise to heap on John for last night's performance.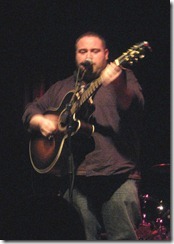 He closed his set with the full band on stage with Nathan joining on the sax. They played Ophelia, the title track from his recently released CD. Lois was blown away and as with Barnaby Bright, ran up right after the set was over to buy a copy from John.
On Friday night we saw another show in VA. The headliner that night was Caleb Hawley and you can read about how great we thought Caleb was. When we found out that Caleb produced John's CD, we knew it would be a winner even before we listened to it. Yup, it's a winner (I say with confidence, now that we've enjoyed it).
Speaking of colds, I failed to mention that Chris Ayer was battling a cold as well. It didn't seem to affect his performance either (well, it affected John's, but not negatively).
Morgan Holland opened the show with the full band plus Chris Ayer. I really like her EP (Old New) and encourage you to check it out and buy it too (you can stream the whole thing first to make sure you agree with me).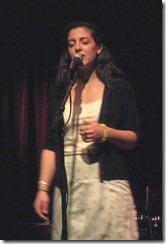 Morgan played songs from the EP plus one Billy Joel cover, She's Always a Woman. She played acoustic guitar and ukulele and also sang with no instruments, with the full band backing her. Chris Ayer or Matt Simons sang harmony on most numbers, occasionally all three together. Beautiful.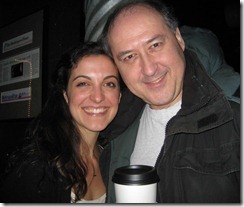 Finally (but certainly not least!), the band. Sitting left-to-right on the stage:
Matt Simons on electronic keyboards and harmony. Matt is a singer/songwriter in his own right. We own his current EP and like it a lot. If you're in NYC on Sat Feb 19th, you can join us for Matt's own show at Rockwood Music Hall Stage 2 at 11pm. It will be his birthday at midnight. Last night he was purely a side man, supporting the others, extremely well.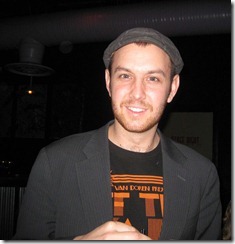 Stephen Chopek on the drums. We've only seen Stephen once before, during the Morgan Holland EP Release show at Rockwood. I enjoyed his play a lot, but this is all I wrote about him after that show:
This was our first time seeing Stephen play. He was very good.
Not effusive, but still accurate, he was very good. I have a much better sense after last night, given that he played throughout Morgan's set, then for one number with John Schmitt, followed by most of Chris Ayer's set. The songs were much more varied so Stephen displayed more styles.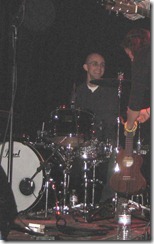 Morgan's set called for sophisticated but understated drumming. Stephen excelled at that. Many of Chris' numbers called for dramatically more drum fills. The very first number that the full band joined Chris on was Graduate (a song I really like but can't find anywhere to purchase!). The drums are integral. I wish I knew the technical term for that style of drumming, because it's among my favorite. If you know the movie 1941, you'll know the drumming style I'm describing as it runs throughout the movie.
Update: A friend who read this post emailed me a link to a live version of Graduate. You can stream it free, or download and name your price. It's gorgeous (I knew that already), but it's solo, so you won't hear the drum pattern I'm talking about above.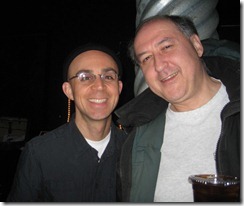 Chris Anderson played the upright bass, both plucking (mostly) and with a bow (on a few numbers). Chris is one of our favorite bass players and we are fortunate that he plays with quite a number of the bands that we like. We first discovered Chris when we first heard Ian Axel and we'll see Chris next Wednesday playing with Ian Axel for his CD release show at the Studio at Webster Hall in NYC.
We can't wait for that show, but we'll see Chris (or at least I assume so) this coming Saturday, playing with the Greg Mayo band. Can't wait for that either.

A great night of music (nearly three hours). If you factor out the mega shows (which we too enjoy!), this kind of night out is still one of the most enjoyable and value-packed things you can do. If you see a show like this at a place like Jammin' Java, where the food is excellent and reasonably priced, the value is increased. That's exactly what we did, along with three of our friends, who hadn't seen any of these artists before last night.